Bootcamp is perfect for leadership teams who want to quickly open up - or expand across - the federal market.

If federal government revenue is key to your growth strategy, next fundraising round, or eventual exit, you need to know how the market works.

We condensed years of federal expertise into an 8-week structured program for executives which arms you with the knowledge you need to manage a federal vertical. All in around 2 hours per week.
Bootcamp starts October 10th.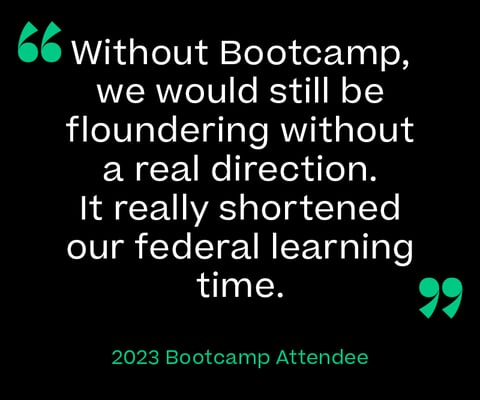 Trust us. We've seen it time and time again with tech companies moving into federal.
Here are a few of the common mistakes Bootcamp will help you avoid:
Hiring a lobbyist before you need one
Hiring and firing a fed sales team because deals are taking too long
Mis-forecasting commercial sales vs federal sales
Difficult conversations with your board on federal market progress
Think of Bootcamp as the 8-week executive MBA for the federal market.
Cost:
$9,500
Bootcamp starts October 10
Focused on the 9 areas where companies fall short
GTM Strategy
Learn how to position your product for the federal vertical
Federal Budget
How will Congress and budgeting cycles impact your plans
Use Cases
Match your technology with government needs
Market Research
Find the $$$
Partnering
Learn why partnering in federal is an important sales channel for your team
Marketing
Feds think differently, so you need to position your company/tech the right way
Acquisitions
Understand how the government actually buys
Contracts 101
The alphabet soup of contract vehicles you need to know to speak the language
IP & Data Rights
Protect yourself and your company's future
Fed Market Bootcamp 8-week schedule
The Basics

What to Expect in Fed

Procurement

Gov Contracts

The FAR

GWACs
Your Use Cases

Use Cases

Targeting

SAM

Who's Who

The Fed Budget
Market Research

Finding the $$

Filling Your Sales Funnel


CSOs


OTAs


SBIR/STTR
Messaging

Crafting a message

Your Pitch

Gov Culture

Gov Personas
Marketing

Marketing to Fed

Gov Collateral

Two-Pager

Website
Compliance

Managing Legal Risk

Security

FedRAMP

NIST
Partnering & Capture

Types of Partners

Assessing Opps

White Papers
Validation & Staffing

Building a Federal Team

Mentor Session

Validate Your Pitch
Meet some of our Bootcamp instructors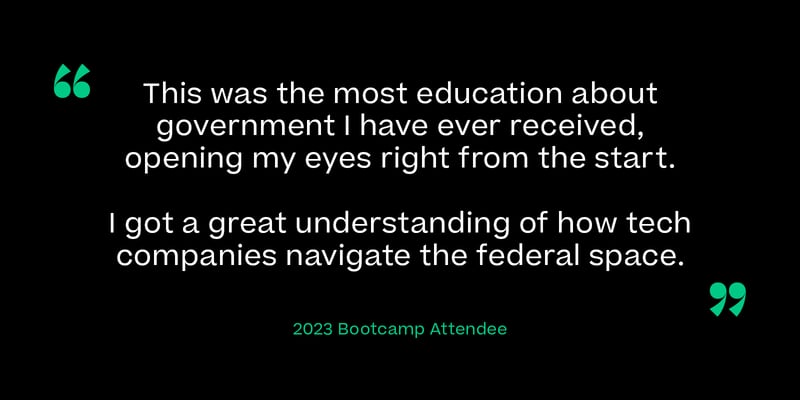 Register now for the next Bootcamp!
If you're looking to successfully take your company to the federal market, Dcode's Fed Market Bootcamp will give you the knowledge to do it right.
Our entire mission is getting the best emerging tech into government, so we're the perfect partner to help get your tech into government.
According to a recent Harvard Business Review article, these three factors make the defense market highly appealing for startups:

1. The Pentagon is a motivated customer, making moves to court software vendors, due to their need to keep pace with other countries.
2. The defense market is stable amidst many commercial market headwinds.
3. Private capital investors are increasingly supporting companies in the defense market.
Read the entire HBR article here
You can expect to spend around 2 hours per week across curriculum and live events.
Bootcamp is perfect for:
Chief Revenue Officers

Chief Growth Officers

Chief Marketing Officers
along with the rest of c-suite
VPs of Federal
Federal Sales teams
Bootcamp is open to anyone from your team who will benefit from understanding how to enter the federal market.
You'll come away from bootcamp with a much deeper understanding of the federal market, enabling you to focus your efforts on the right places, guide your buyer, and grow sales.
For leadership teams, you'll leave Bootcamp armed with the knowledge you'll need to shape your federal GTM strategy, and you'll be ready to take this before your board.
For sales teams, you'll overhaul your federally-facing marketing materials based on the feedback you receive from our experts and that you'll be able to better structure your go-to-market strategy.
The federal market is a beast, but you'll walk away with a good understanding of the topics you need in order to be successful in:
Planning your strategy
Messaging your tech and solutions for government buyers
Finding opportunities for your use cases
Guiding the buyer targets
How to avoid trouble
Here are selected wins that attendees of previous bootcamps have listed:
Deepened understanding of the federal market
Companies have identified new use cases they hadn't previously considered, opening up new agency targets and contracting opportunities
Mentors have connected companies with target agencies they had been trying to reach
Companies have fully overhauled their federal-facing 2-pagers, which in turn helped them close meetings they'd be tying to set up for months.
Nope! Bootcamp is a one-time fee paid at the time of registration.
You'll retain online access to the learning materials and our community platform for one year.
The community is a great place to connect with other tech companies, as well as tapping into our mentor network to keep progressing in federal!
Yes! Several VC firms have sponsored their companies to attend past Bootcamps.
Please contact us for more information.