Hutch + Dcode present
A Fed 101 learning session
(This session occurred on July 27th, 2022!)
Tune into this recorded session with the Hutch and Dcode teams for an hour-long learning session to help you gain a basic understanding of the federal government and how to navigate the bureaucracy that often comes with it.
In this session, Dcode Government Program Manager Jillian Winstanley, along with Hutch Board Member and Chief Experience Officer and Service Design Lead at NASA SBIR/STTR Victor Udoewa
guided participants through:
- The advantages and challenges of working in the federal market
- The basics of government structure and budget
- How to identify your relevant use cases
- An overview of the stakeholders, buyer personas and culture
- Flexible contracting methods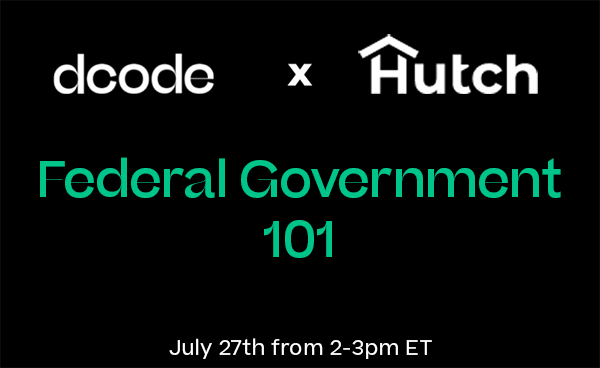 About Hutch
Hutch is a Baltimore-based, 24-month incubator program that provides minorities and women entrepreneurs with a blueprint for building successful, government-focused digital services firms. Established by our parent brand, Fearless, Hutch equips civic tech entrepreneurs with the tools, mentorship, and peer-to-peer support they need to have a lasting impact on their government and their communities.
About Dcode
Dcode is the premier advisory firm connecting the tech industry and government to drive commercial innovation in the federal market. Dcode helps emerging tech companies, federal agencies, and industry partners understand each other and work together to improve the government with better tech.